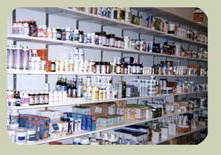 Email is our primary form of communication. Please enable your mail server to allow incoming email from easylivinghealth.com.
Easy Living Health will only communicate with you regarding active orders and in response to direct inquiries from you. Some email servers will automatically place our confirmation email in trash or spam folders.
All orders receive a conformation email to the email address provide with submission of the original order. If you submit an order and do not immediately receive a confirmation email, please send a separate email to our
sales team
with your name and include an accurate telephone number for us to reach you.
All orders originate online at easylivinghealth.com, or by mail to our address provided below. Telephone support is provided for all existing orders. General inquiries can be sent via email to our
sales department
and will be forwarded internally to the individual who can best assist you.
All orders are provided with 5-7 business day delivery. Orders will often ship within 48-72 hours after being received. If a product is determined to be unavailable, we will contact you by email.
We purchase daily and directly from over 100 distributors and manufacturers. Delays occur for a variety of reasons and should not be a cause of alarm. It is not uncommon for us to anticipate a product from a manufacturer, a product necessary to complete your order, and when we open our next day order from said manufacturer we find a back order notice. These back order notices are often resolved within a day or two and come without any explanation of cause or reason. With our customers approval we will often wait the additional day or two to satisfy an order. We will promptly notify you if any product is subject to delay.
Email Us:
For tracking and order information of previously placed orders, please refer first to our
Order Status Page
, alternatively you can send an email to
salesteam@easylivinghealth.com
.
For Special Orders, and orders for delivery to Alaska, Hawaii and/or International Orders, please email your order inquiry and we will respond with a shipping quotation.
Special Orders for bulk discount consideration must consist of 48 or more units for each product for delivery at one time. If a unit consists of 4 bottles, 48 units will consist of 192 bottles and must be ordered at one time for discount consideration. Combination's of manufacturers like products are not allowed for discount consideration. Additional quantitative discounts for individual products are provided on the Product Listing Page if available.
Sales Department:
salesteam@easylivinghealth.com
Call Us:

To speak with a Customer Support Representative call .
Monday - Thursday: 10 - 2:00 PM
Telephone support not available during the shipping hours 2 - 6:00 PM PST
Please note - At Easy Living Health we actually handle each and every product we sell, however - we are unable to quote stock over the phone. Although we might see 2 units of one product with our very eyes, that product may already have been sold. We can not quote stock.
Ingredients - At Easy Living Health we work diligently to ensure our product listings and images are accurate. If you discover a material mistake please let us know by email.
Write Us:
Want to place an order by mail? Please indicate the product's you would like to order, including your TELEPHONE number, your address, including Unit Numbers. It is very important to include a TELEPHONE number in mail orders.
When calling to inquire about your order please let us know if you ordered by mail.
Make all checks payable to Easy Living Health.
Easy Living Health
1819 Polk Street Suite #227
San Francisco, ca 94109
Please note, we do not provide COD orders.